DeWitt Football is selling their annual Dragon Sweat Bundle. You get a sweatshirt/hoodie, sweatpants, dry fit style tee, dry fit style long sleeved tee, and shorts with the Dragon Football Logo all for $80.00 a set. Order forms are in all schools in the district. Return the completed form and money to Coach JD Gunnell @DMS by TUESDAY, DECEMBER 1. Checks should be made to DeWitt High School Football.

Monday, November 23 is a scheduled digital day for our DMS Students. Students who are in-person learners will receive a paper copy of the Literacy and Math Thanksgiving work. The work will also be posted online in their Schoology Literacy & Math courses. All virtual learners and quarantined students can access and submit their work in Schoology. Please submit the work online by the deadline date or return your paper copy when school resumes on Nov. 30. ***No devices will be sent home with in-person learners over the holiday. Thanksgiving Break will be November 23-27. Students will return for learning on Monday, November 30. We hope that you all have a restful break.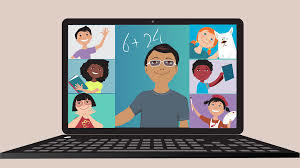 Students its that time of year, DEER SEASON! We will have our 2nd annual Deer Classic. Rules are send a picture of you and your deer to Mrs.Becca at
blane@dewittdragons.net
or Mrs. Mikki at
mmilliken@dewittdragons.net
. The contest runs until the end of February 2021. There will be lots of braggin rights and prizes. Any questions come by the office between classes.

Students!! As a reward for working hard and making gains in iReady, we will reward you with a Christmas movie & chances to win prizes!! See the attached photo below.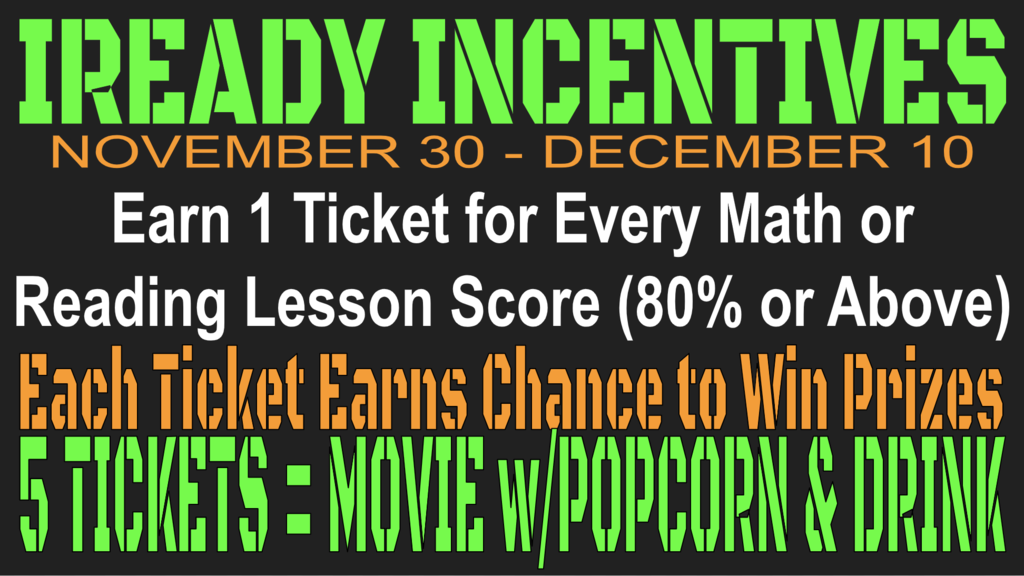 We are aware of the internet outage yesterday afternoon. It seems that it was late last night or early this morning when services were restored for the most part. Dragon Academy Students: Your teachers will communicate with you about what to do for yesterday's assignments. If you have any questions or are still experiencing trouble, call the office and let us try and assist you. Thank you!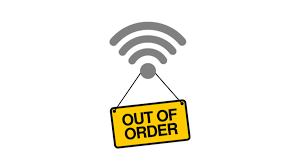 DMS students & staff have enjoyed showing our "Drug Free Pride" this week with crazy sock day & team spirit day. Tomorrow is our last day of Red Ribbon Week, and our theme is "PINK OUT."

2nd Nine Weeks Reminder for Virtual Students & Students in Quarantine: We have the 1st weeks behind us. It seems that students and teachers are more comfortable with navigating through Schoology. Please be sure that you are checking in with roll calls in each class DAILY. Also, be mindful of when your assignments are due each week, and turn them in before the deadline. Work not turned in on time will not be accepted for full credit.

Report Cards are going home with students today. Remember, Parent Teacher Conferences will be tomorrow, October 27. Students will be dismissed from school at 1:15. Our conferences will be done via phone this time. We will call you sometime between the hours of 2-6 p.m. if you indicated on your letter that you wish to speak with us. Please review your child's progress on their report cards with them and be prepared for our call.

Please see the attached flyer for more information about Red Ribbon Week: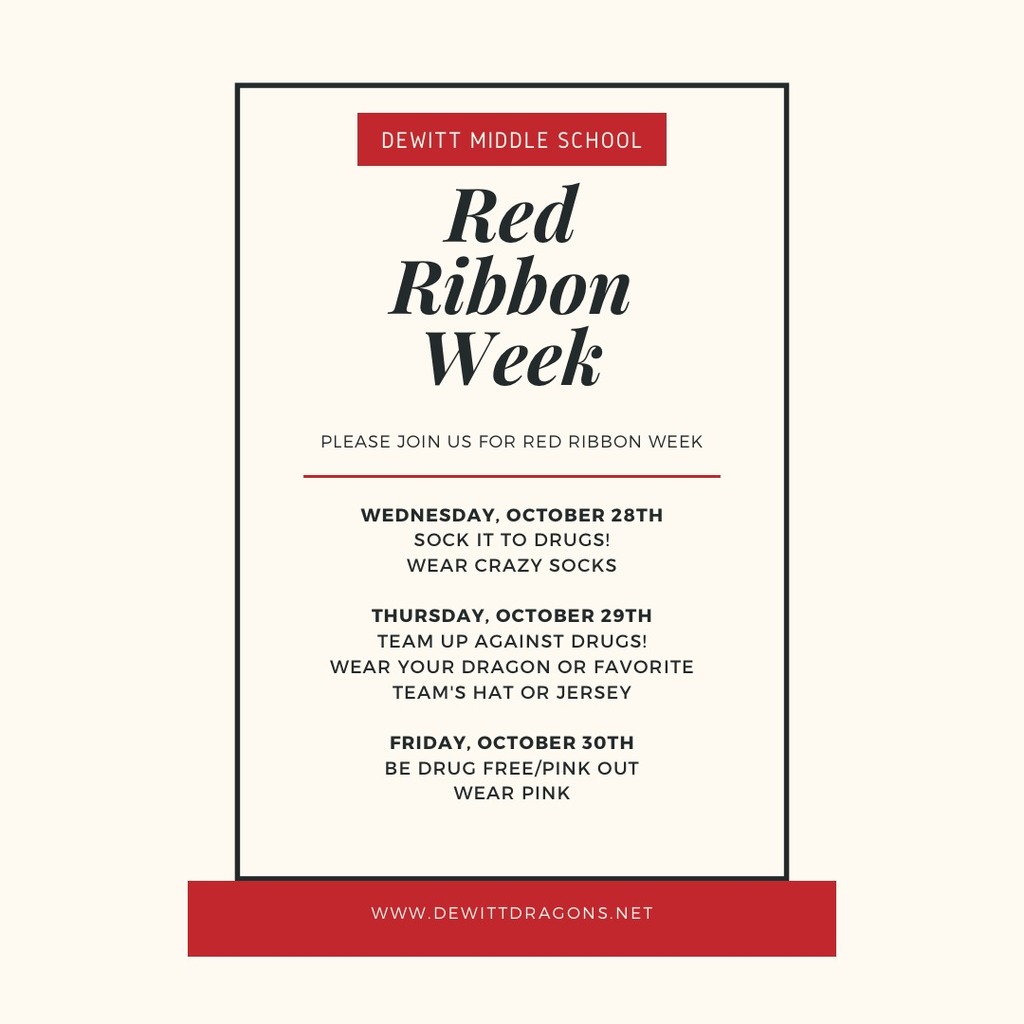 UPDATE: The 7th Grade Dragons & JR High Dragons game against Crossett will be played on THURSDAY, OCTOBER 29 at 5:30 & 7:00 respectively.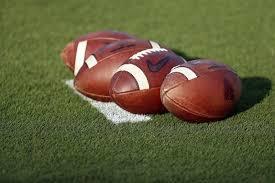 Monday, October 12, is our first Digital Day. Here are some reminders for all DMS Students & Parents: -Students who requested a school device will bring them home today, Friday, October 10. -Students should use the devices responsibly. Keep them away from food & drink, and not allow anyone else to use the device. -Students should do schoolwork only on the device. -Students should charge their device Monday night so that they can return a fully charged DEVICE & CHARGER on Tuesday, October 13. -All school work will be assigned by teachers and the work and instructions will be in their Schoology Accounts. -DMS WIFI will be up and working all weekend and on Monday. If you have an issue with your own internet, parents can park in our parking lots while their student submits their work. -Should you run into any issues: 1. Email your teacher OR 2. Contact the office, 870-946-3708. We will guide you or direct you to someone who can help you with your issue. Thank you & have a great weekend. -Mrs. Rachel Mitchell, DMS Principal

DMS Parents & Students: Here are some things that we wanted to remind you of or inform you about... 1. Flu Shots at DMS will be Monday, Oct. 19. Forms have went home with your child. Please return by the end of this week so that we can have a count of who will get a shot. 2. Spirit Days for Homecoming Week (October 13-16) are as follows: Tuesday, 10-13, is Tacky Tuesday. Wednesday, 10-14 is Decade Day. Thursday, 10-15 is Patriotic Day. Friday, 10-16 is Homecoming Day/Blue & Gold Day. ***Dress must follow handbook dress code expectations**** GO DRAGONS! 3. Pink Out Day is October 30. Students may dress in pink. 4. Our 1st digital day is this coming Monday, October 12. Students will work from home, and not report to the school this day. Devices will be sent home to students whose parents indicated that they would need one. We will send them home Friday. We ask that they complete & submit their work and then charge their Chromebooks on Monday night. They will return the Chromebook and the charger to us on Tuesday morning when they come back to school. DMS Staff will be on hand on the digital day to respond to emails and calls during regular school hours. Please reach out if you are having trouble.

Just a reminder for virtual students or any student who may be quarantined: -You are expected to log in daily to EACH class in Schoology. Please click on that class. -You should do the roll call and complete the assignment that each teacher assigns. -If you don't complete the daily assignments and do roll call, you may be counted absent and not get credit for that day. -Should you experience trouble with submissions or anything else related to Schoology, contact the office at: 870-946-3708. We will try and help assist you.

Dragon Academy Students: Mr. Guest is saying that many of you aren't turning in art work. He said you must set up an art portfolio in order to do this. Here are the instructions: HOW TO SET UP A PORTFOLIO IN SCHOOLOGY This is how you will submit your finished projects. 1. Login to Schoology. 2. Click on "Your Name" located in the top right hand corner. 3. Click "Your Profile". 4. Click "Portfolios" under your profile picture. 5. Click "New Portfolio". 6. "Title". 6th Grade = Art 6 8th Grade = Art 8 7. "Description". 6th Grade = Dragon Academy/1st 9 Weeks 8th Grade = Dragon Academy/1st Semester 8. Take a picture of your Art using a phone or your Chromebook. Phone: -Open your school Gmail. -Attach the picture of your project to the email by clicking the paperclip. -Open your Gmail on your Chromebook. -Save the picture to your Google Drive. Chromebook: -When you take a picture it will save to your downloads. 9. Go back into your Schoology - Click on "Your Name" - Click "Your Profile" - Click "Portfolios" 10. Click to open the Portfolio that you created. 11. Click "+ Portfolio Items". 12. Click "File" and find the picture that you uploaded. 13. Click on the picture. 14. Click "Open". 15. Once your picture appears, click on the "circle" to the right of your "Description". The "circle" should turn green. This will publish your portfolio so that I can see it and grade your work. 16. Click on the picture that you just uploaded, to open it. 17. Rename the "Title" whatever the name of the project is. (Ex...Found Objects Color Wheel or Famous Laundry Art).
Ms. Deane's 6th Grade Science classes made plant and animal cell models. They used candy to represent the different organelles in a cell.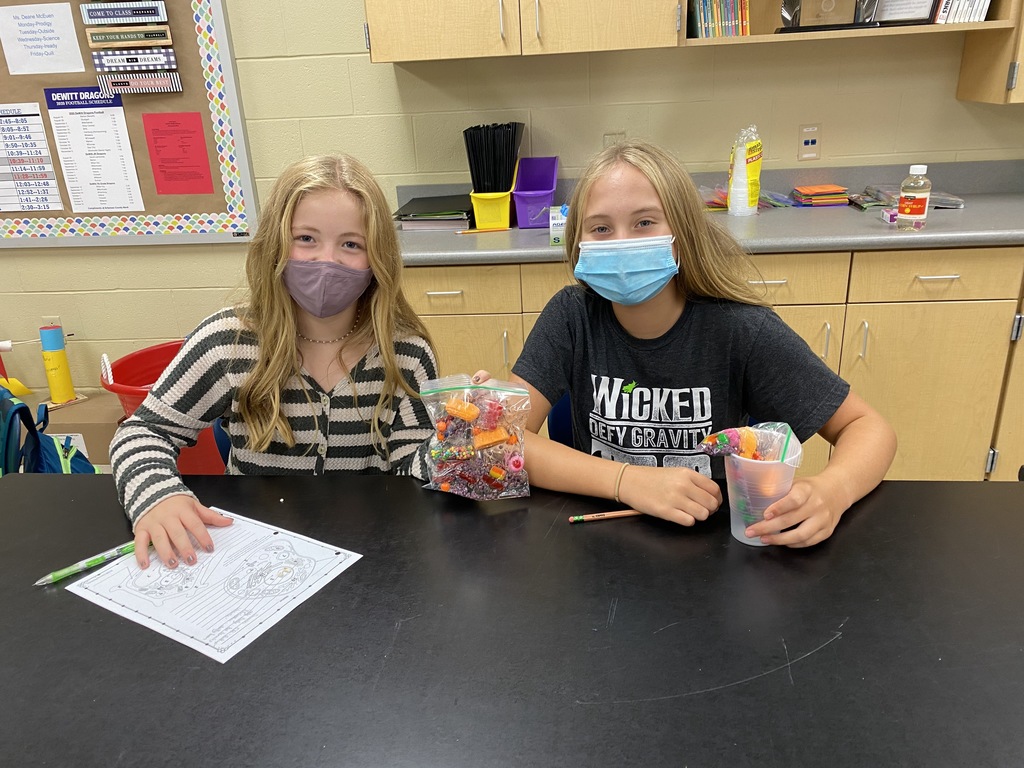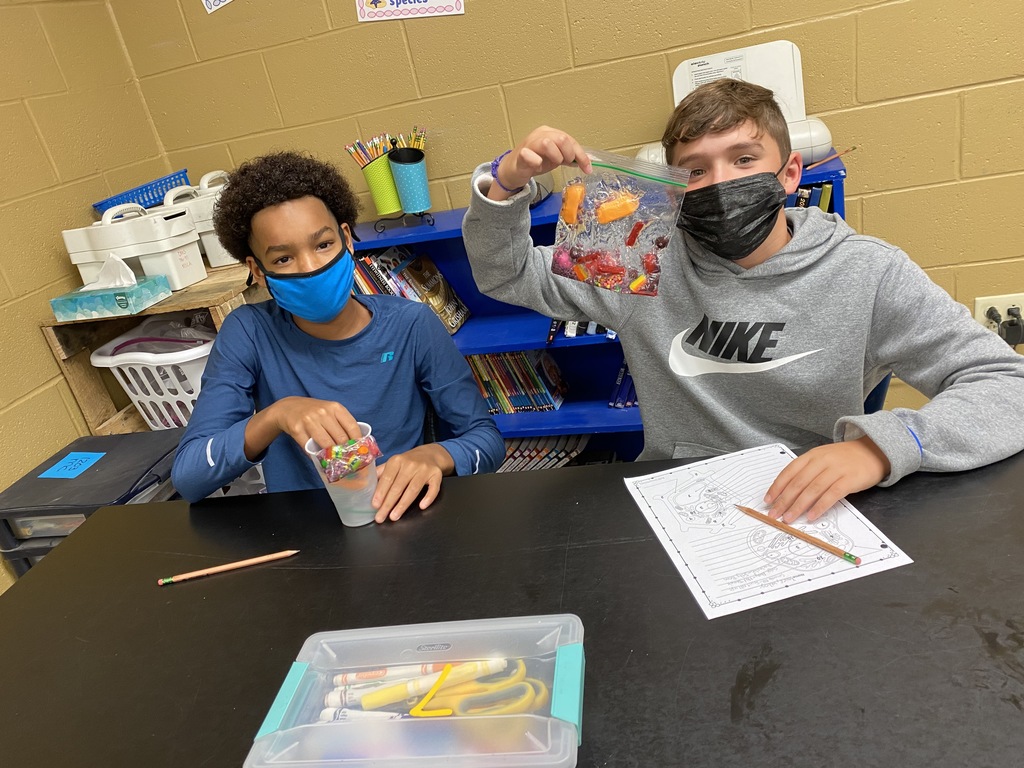 Upcoming Events @DMS: -Thursday, October 1: JR Dragons v. Hazen at home -Thursday, October 8: JR Dragons v. Crossett at home -Monday, October 12: DIGITAL DAY. This is much like an AMI Day. Students will work on their school work via Schoology. We sent a letter home last week polling students to see who will need a device. Please return this letter by October 1. -Thursday, October 15: JR Dragons @ Warren -Monday, October 19: DMS FLU SHOT CLINIC. Forms will go home with students soon. Students must return the forms in order to get the flu shot. -Thursday, October 22: JR Dragons v. Dumas at home -Tuesday, October 27: Parent Teacher Conferences. More details to come.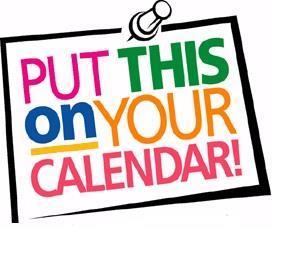 8th grade students in Mr. Dollar's history class did a song analysis in observance of September 11th. Students listened to "Where were you when the world stopped turning" by Alan Jackson and illustrated using the images from the song.

6th graders in Mr. Rowland's PLTW Year 1 class had to build a working miniature foosball table. It had to include five players and two rods per team. Students had the option to add a scoreboard, goals, a ball drop, or anything else that added character to their foosball table. This is the first of many projects that students will do during their time in PLTW.